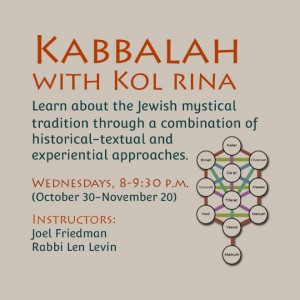 Wednesdays, 8:00-9:30 p.m. at 60 Valley Street, South Orange.
Instructors:  Joel Friedman and Rabbi Len Levin
What is Kabbalah? Is it theology, cosmology, psychology or poetry? An exploration of the many facets of this ancient Jewish mystical tradition will open doors for everyone and answer these questions and many more.  Learn about the Jewish mystical tradition through a combination of historical-textual and experiential approaches. Texts will be chosen from Daniel Matt, The Essential Kabbalah.
All are welcome to our Kabbalah classes!
[hr]
For your convenience we have provided the syllabus and class reader. Please download and print for Kabbalah class.
Syllabus for KR Kabbalah Classes     Kol Rina Kabbalah Class Reader
[hr]Please contact us if you have any questions by filling out the form below:
[contact_form email="
[email protected]
" subject="Kabbalah | Website Form | Question"]